When it comes to air conditioners, the Amana ASXS6 S-Series is a game-changer. This air conditioning system is revolutionizing home comfort with its high-efficiency performance, sleek design, and compatibility with the Amana S-Series Smart Thermostat.
When you are ready to upgrade your air conditioner to the Amana system, contact Service Tech! We provide top-quality air conditioning service in Birmingham, AL, and surrounding areas.
Amana S-Series
The Amana S-Series air conditioners are stylish, efficient, and perfect for limited spaces. Explore the key features and benefits of the Amana ASXS6 S-Series air conditioner and how it addresses the challenges of limited installation space.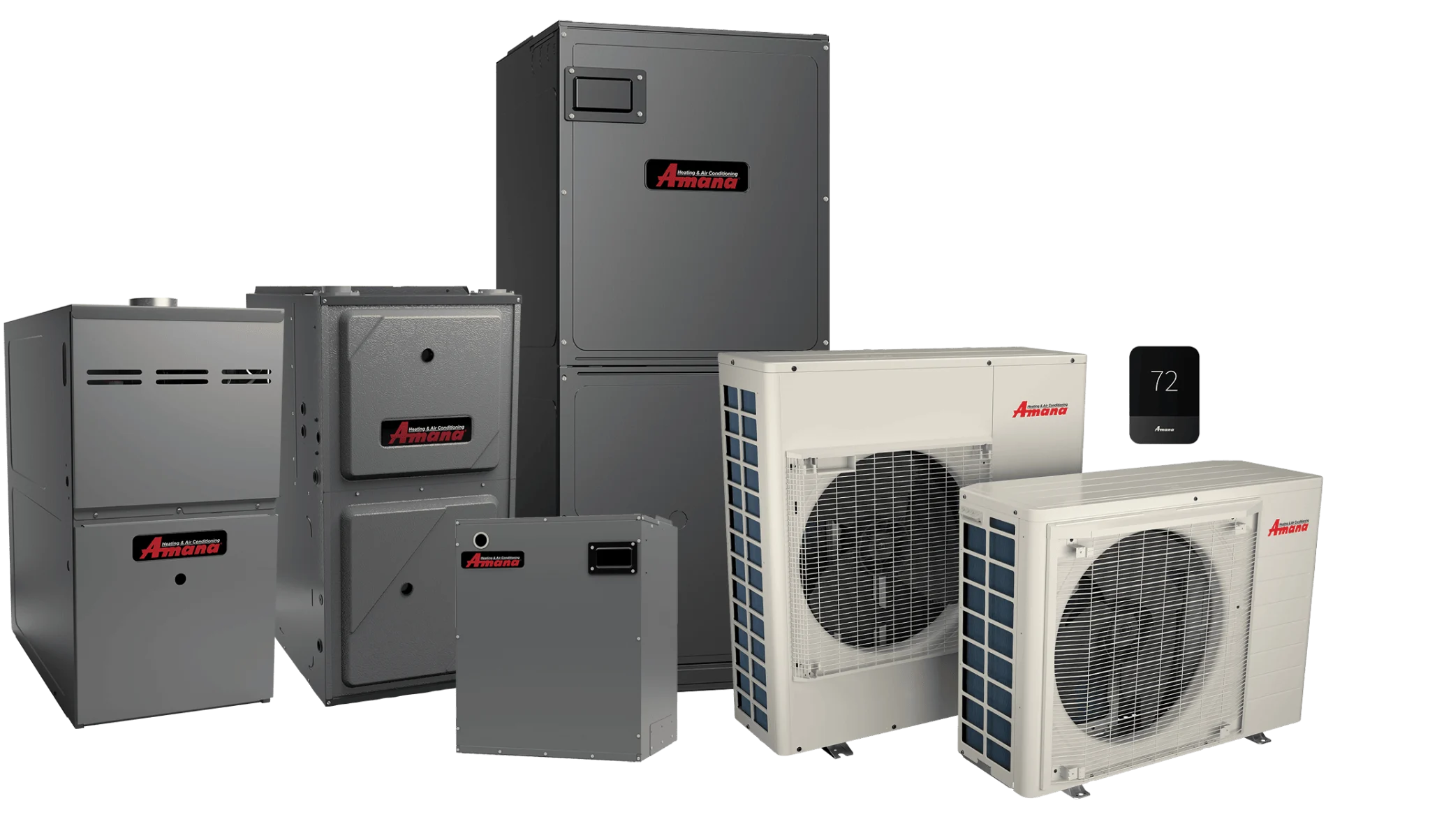 Space-Saving Air Conditioner
The Amana S-Series side discharge system is the ultimate solution for homes with strict installation limitations. Its slim style and small footprint make it ideal for those seeking comfort without compromising on space. Whether you have zero lot line restrictions or a small patio/backyard area, the Amana ASXS6 S-Series can be installed on a pad or as a wall mount, offering flexibility in design and installation to meet the demands of most projects.
Quiet And Efficient Air Conditioner
With a high Seasonal Energy Efficiency Ratio (SEER) of up to 17.2, the Amana ASXS6 S-Series ensures energy efficiency and cost savings while maintaining optimal cooling performance. The system's Inverter Technology allows it to run at an energy-conserving level, making slight adjustments to the compressor's speed for faster temperature reach and consistent indoor comfort compared to traditional non-inverter systems.
Long-Lasting Air Conditioner
The Amana ASXS6 S-Series prioritizes your comfort with its quiet-mode feature, providing enhanced acoustical comfort in your home. Additionally, the Blue Fin corrosion coating helps keep the coil clean, ensuring efficient operation and durability for years to come.
Smart Air Conditioner
The Amana ASXS6 S-Series is compatible with the Amana S-Series Smart Thermostat, taking your home comfort to the next level. The smart thermostat's capacitive touchscreen offers not only a stylish design but also user-friendly operation. With the Amana home app, you can control your system from anywhere using your smart device and even enjoy voice control compatibility with Amazon and Google smart devices.
Amana S-Series Smart Thermostat
The Amana® brand smart thermostat combines style and ease of use with its sleek capacitive touchscreen, offering a modern and visually appealing interface that enhances the overall aesthetics of your home. But it's not just about looks – this smart thermostat is designed for convenience. With the Amana® brand home app, users can effortlessly control their thermostats from anywhere using their smart devices, adjusting temperature, setting schedules, and managing energy-saving features with just a few taps on their smartphone or tablet. What's more, the Amana® brand smart thermostat goes even further by providing voice control compatibility. With Amazon or Google smart devices connected to Wi-Fi, you can simply use your voice to make adjustments to your thermostat, enjoying a seamless and hands-free experience.
Get Your Amana S-Series Air Conditioner
The Amana ASXS6 S-Series air conditioner is excellent for those seeking efficient cooling in limited spaces. This system offers the perfect balance of comfort, convenience, and energy savings. Experience the future of home comfort with the Amana ASXS6 S-Series air conditioner and make your home a sanctuary of cool, refreshing air.
Service Tech is proud to offer this premium unit! Contact us today to upgrade your air conditioning unit to the Amana S-Series!
As a business owner or facility manager, ensuring a comfortable and healthy indoor environment for your employees and customers is crucial. Your commercial HVAC system is a key component in achieving this goal, and HVAC filters, such as those provided by Service...