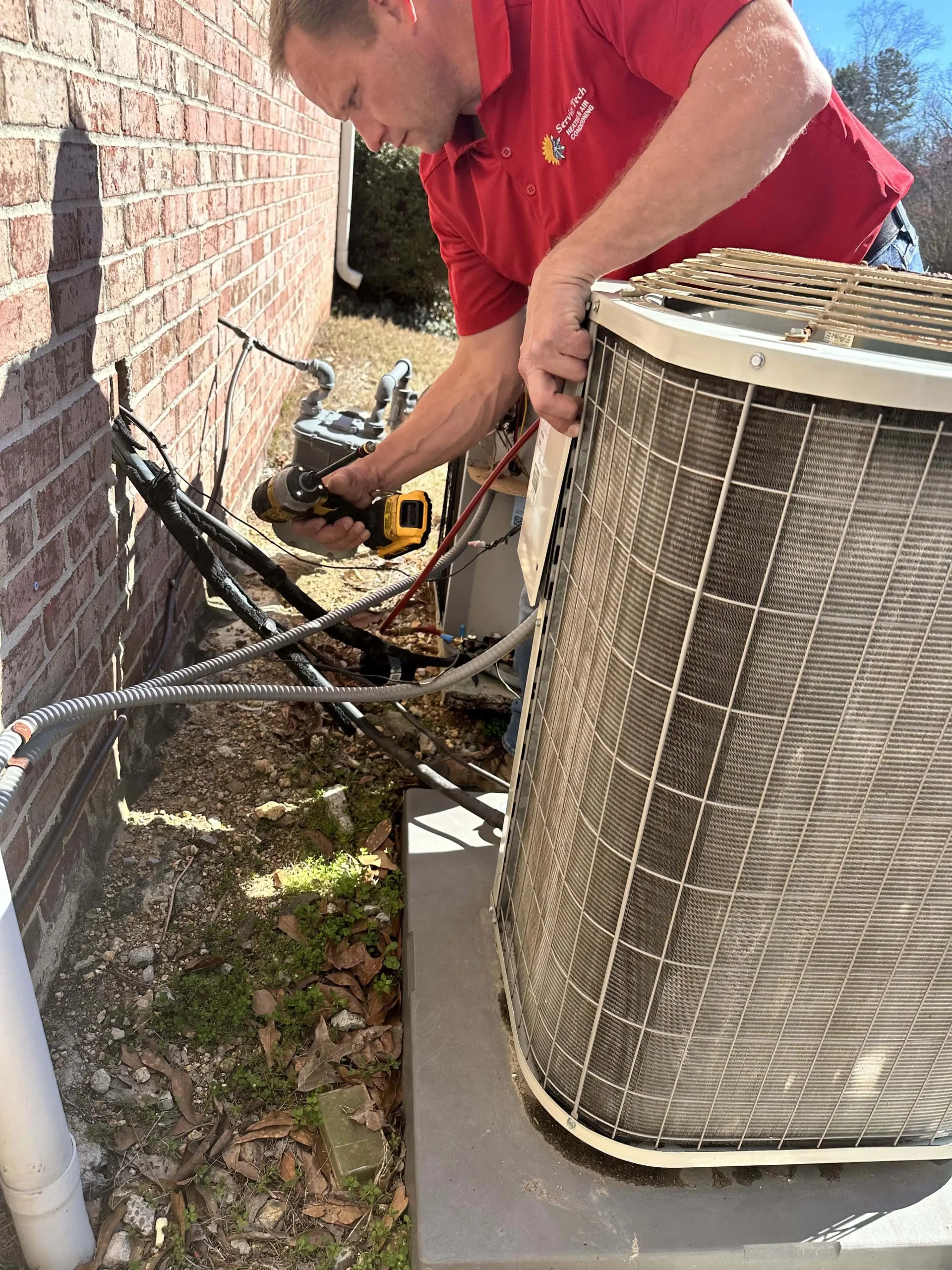 Contact the Experts at Service Tech
Please let us know what we can assist you with today!
Living in Alabama with its extreme temperature changes can put a strain on your HVAC system. Protecting your significant investment in equipment is crucial through regular preventive maintenance. At Service Tech, we have over 33 years of experience providing residential HVAC service in Birmingham and nearby areas. Our team of licensed and insured technicians is dedicated to providing quality service to ensure your comfort. Learn more about HVAC tune-ups and our Preventative Maintenance Plan.
Preventative Maintenance
Regular maintenance, or a tune-up, of your HVAC system, not only maximizes its efficiency but also extends its lifespan. Routine tune-ups can save you money by reducing energy costs. Proper maintenance is essential for high-efficiency air conditioners, which can significantly cut down on electric bills.
What To Expect During An HVAC Tune-up
During a maintenance check, our trained Service Tech technician will do the following:
Check refrigerant levels and inspect for leaks

Clean and straighten condenser coils for proper airflow

Check for gas leaks in the connections

Tighten all electrical connections

Lubricate all moving parts

Test the thermostat to ensure proper cycling of the system

Check and replace the air filter as needed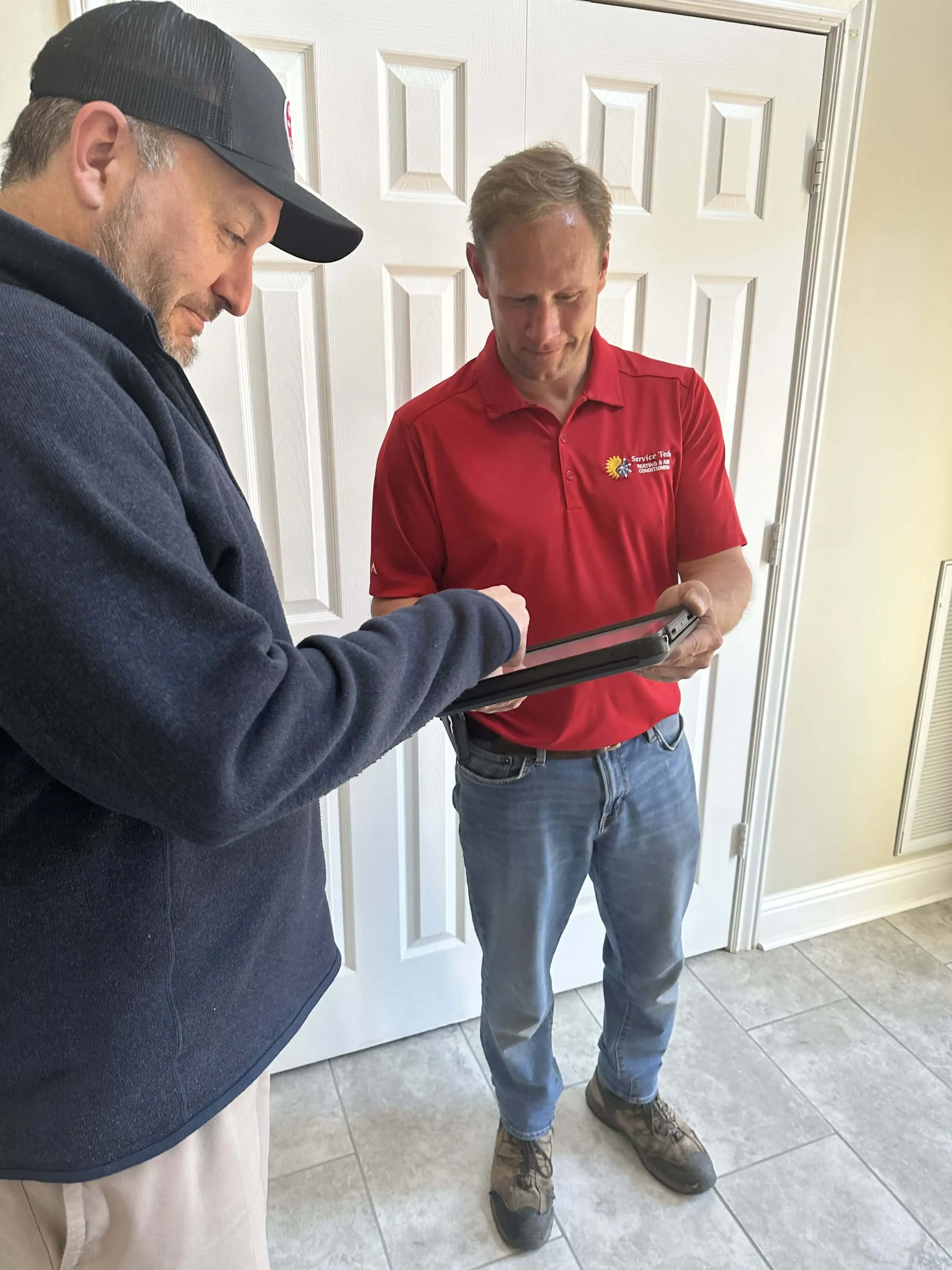 Service Tech's HVAC Preventative Maintenance Plan
Heating and cooling equipment manufacturers typically mandate yearly preventive maintenance to maintain the warranty. That is why Service Tech offers a Spring and Fall Tune-Up package. This preventative maintenance contract can help you avoid expensive repairs and system failures, address issues before they become serious, prolong the life of your HVAC system, enhance indoor air quality, and decrease energy consumption. 
What Is Included With Our HVAC Preventative Maintenance Plan
Service Tech's Annual Maintenance Plan is $189* per year and includes a precision tune-up for Spring and Fall. 
Fast Response and 24/7 Emergency Service 

Priority Service Over Non-Plan Customers 

Two Precision Tune-Ups Per Year (Spring and Fall) 

A/C Filter Replacement

10% Discount on All Paid Repairs

10% Discount on Indoor Air Quality Equipment 

10% Discount on Indoor Dehumidification Equipment 

Maintains & Validates Manufacturers' Warranties
*Disclaimer: Enroll in our residential preventative maintenance program to receive your special pricing: 
One-unit system — $189.00 per year 

Two-unit system — $306.00 per year

Three-unit system — $444.00 per year

Four-unit system — $585.00 per year

Five-unit system — $700.00 per year
Benefits Of An HVAC Preventative Maintenance Plan
At Service Tech, we believe that preventative maintenance is the key to a reliable and efficient HVAC system. Our maintenance plan prevents costly repairs and breakdowns and corrects longer-developing problems. With regular maintenance, you can extend the lifespan of your HVAC system and improve the air quality in your home or office. In addition, our plan helps to reduce energy use, which can save you money on your monthly utility bills. Trust us to keep your HVAC system in top shape all year round.
Schedule Your Tune-Up With Service Tech
For reliable residential HVAC service in Birmingham, AL and nearby areas, Service Tech is your best bet. With over 33 years of experience in the HVAC industry and proper insurance and licensing, we ensure high-quality service to our clients. Our team of highly trained technicians is committed to meeting all your HVAC needs. Contact us today to purchase your Preventative Maintenance Plan!
Additional services you may be interested in.
Who Is Responsible For The HVAC System In A Commercial Lease Building? When you lease a commercial space, there may be certain repairs and upkeep items you and the landlord work together on. It can be a part of your business strategy to lease a space and rely on...